Game of Health
A game to demonstrate an interplay between health, money, and age in a humorous way
About
Healthcare system is complex. Different factors like insurance, age, and incidences in day-to-day life have an impact on health. The intent of the Game of Health initiative was to create a dialogue about the interplay between the different social determinants of health and help people understand the complex relationship between them.
Interactive Game Design
Design Institute for Health
March 2018 - May 2018
My Role & Responsibilities
Game Designer, Interaction Designer
Designing game mechanics, designing assets for the game, designing user experience and interface for the game, hosting the game-event during SXSW festival and WTFix conference.
Team
Design Director,
2 Designers

The challenge
89% of health occurs outside medical care through our genetics, behavior, environment and social circumstances. The challenge here is to create awareness and dialogue about the social determinants of health.
Background
"Healthcare is more than just medical care"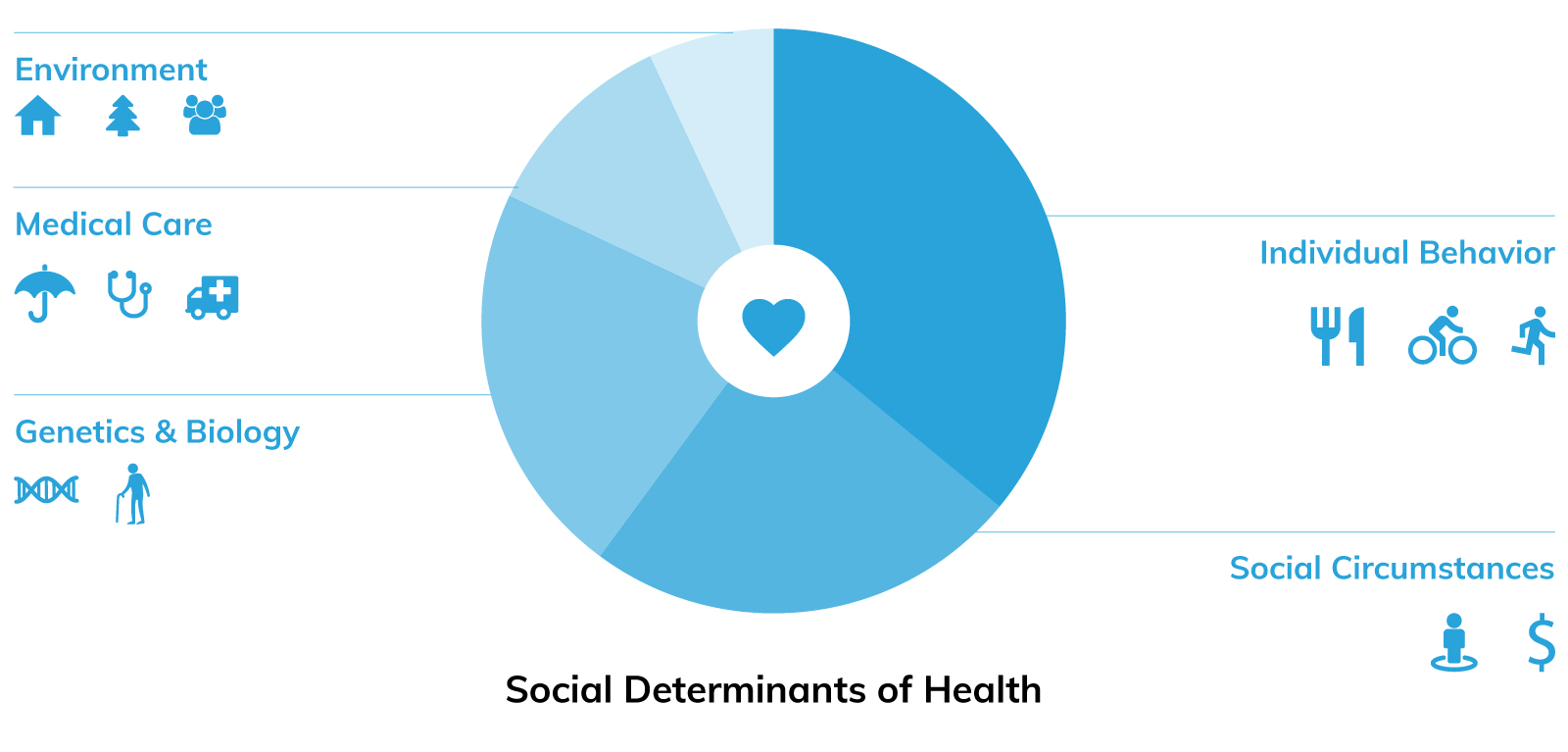 Out of all the social determinants, we observed that age and money have a more direct impact on people's experience with the healthcare system. Therefore we decided to focus on these factors.
Redefined Brief
How might we create an educational experience to highlight an interplay between health, money, and age.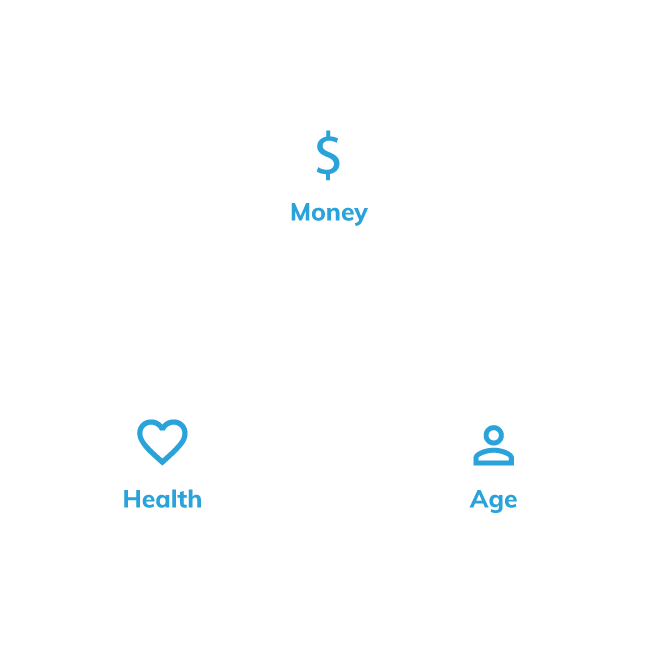 Design Considerations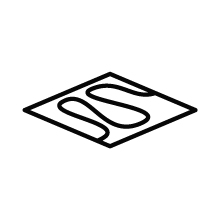 Board game + Interactive game experience
Creating a fun and interactive learning experience using a medium familiar to people like board games to have a minimal learning curve.
Public events
Designed for public events with the intent of encouraging people to talk about their health experiences and creating a dialogue about determinants of health.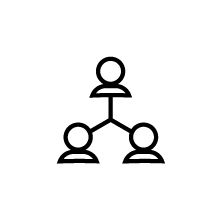 Participatory Design Methods
Following an iterative process and evolving the game based on the feedback, inputs and content from the participants.
Ideation
Defining Gameplay
The process involved exploring different game mechanics and defining content based on health experiences for making the game educational and fun.

Calibrating Game dynamics
We tried different versions of the game and played that with multiple players. This helped us come up with multiple use-cases and scenarios to create a game with balanced outcomes, i.e. equal probability of winning & losing.

The Concept
The board game starts with a player at age 1 and continues until the player retires at the age of 70.
Every player starts with 30 health points and $3000 cash. As players move ahead on the board game they stumble upon different events that impact their health and money.
The goal of the player is to retire with maximum health points and cash. However, if the players lose all the health points midway, they lose the game.
How it works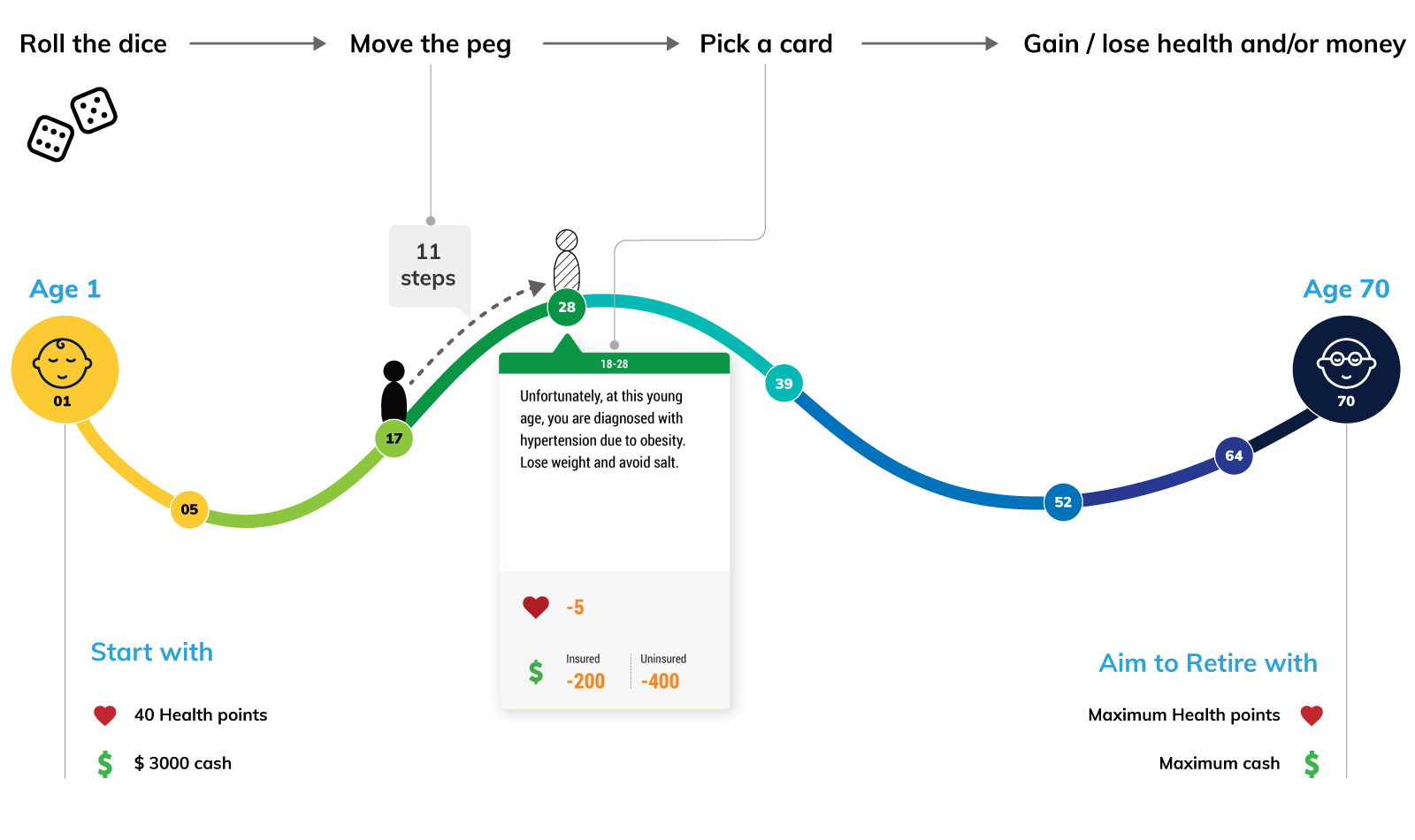 Implementation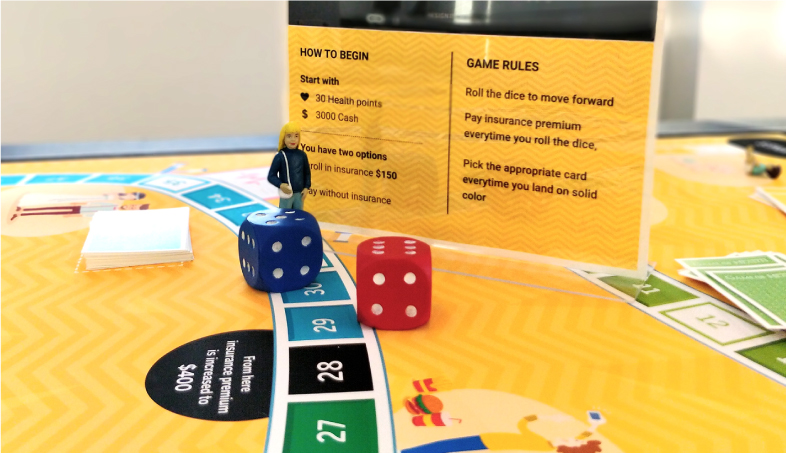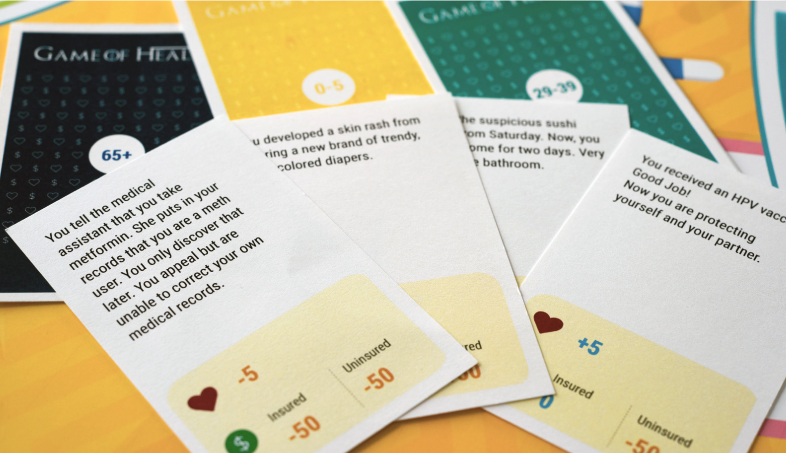 Concept testing
The game was set up for SXSW Open house at Design Institute for Health
We played the game with 30+ participants

Game of Health at SXSW Open House, 2018
Outcomes & Learnings
Participants-generated content Insights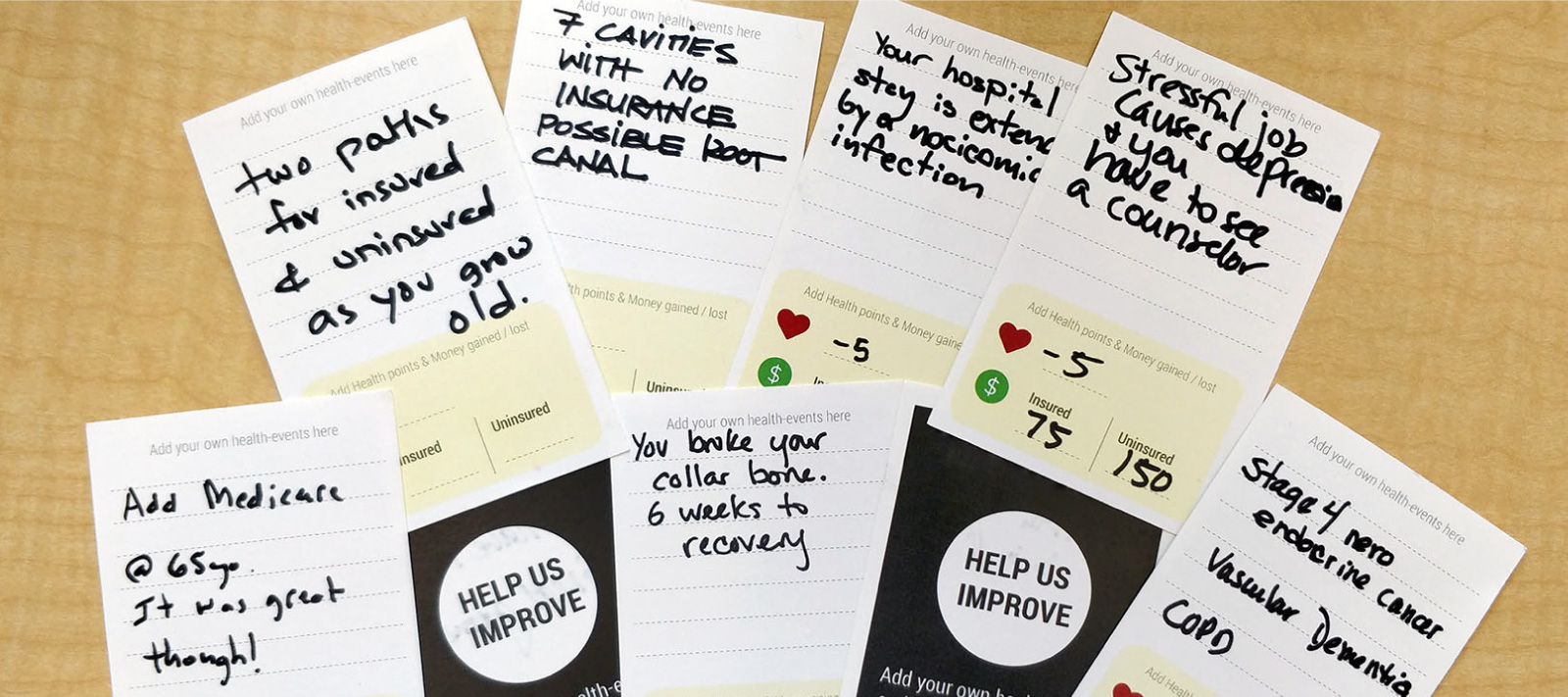 Insights
We realized that the game was interesting for individual players and people playing in groups but wasn't as fun for the viewers. This caused some drop-off and low motivation to participate.
Incorporating feedback
How might we make the game more engaging for players as well as for the audience
Concept Refinement
To make the game more engaging for the audience, we tried to make the components of the game more visible to the viewers. For this purpose, we replaced the dice with a spinner. We also converted the physical cards into an interactive application that can be accessed on a touch-screen device. The idea was to invite more & more people to play a fun game that makes them think about how our healthcare system affects lives, and how we can make it better.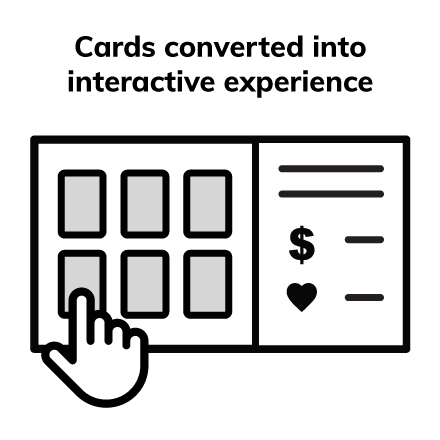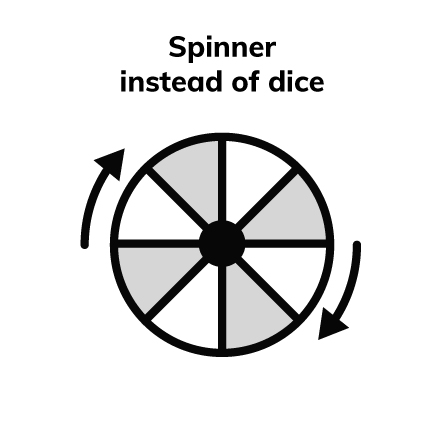 How it works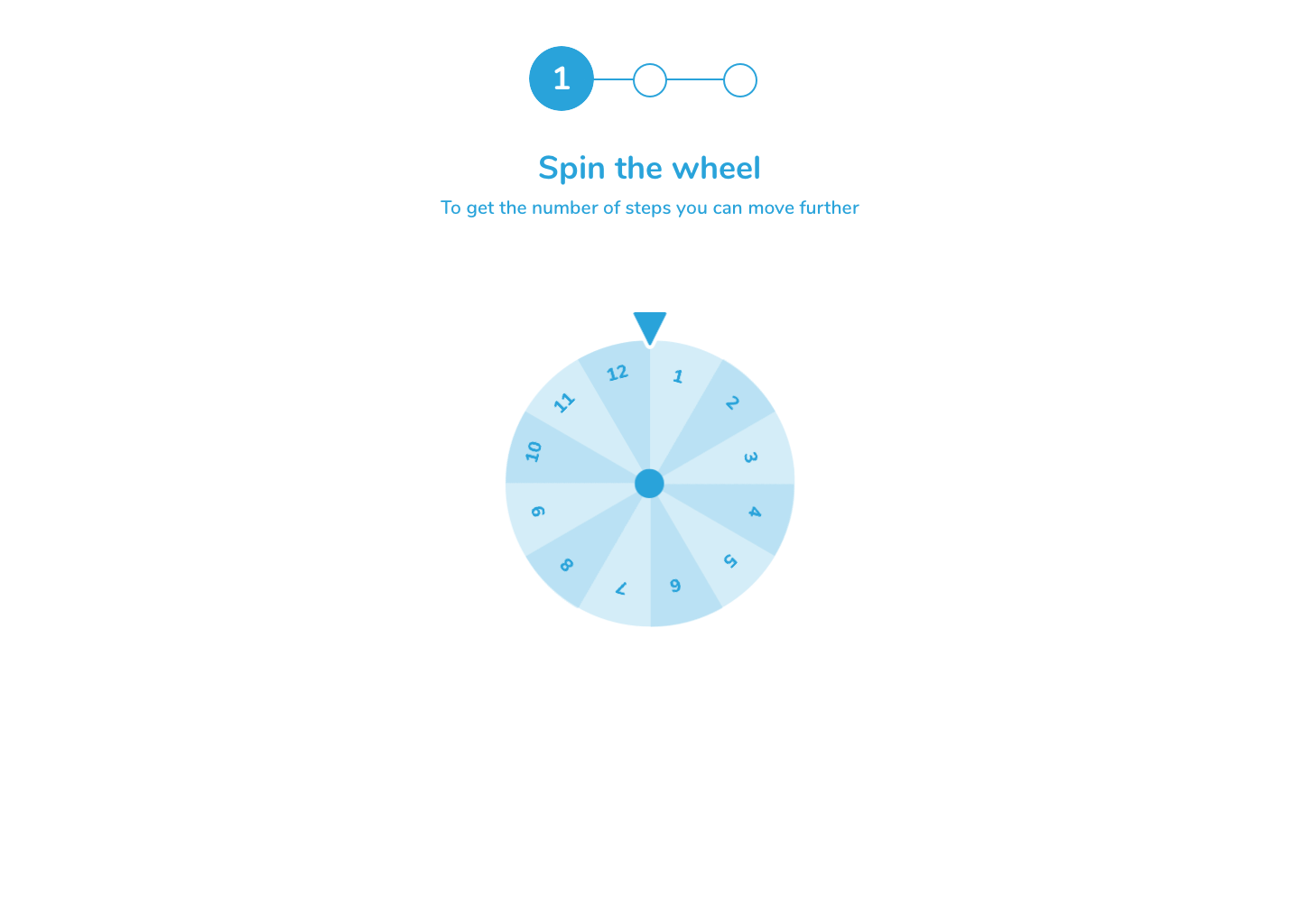 The Launch
The game was set up at WTFix conference 2018
We played the game with 50+ participants
Game of Health at WTFix 2018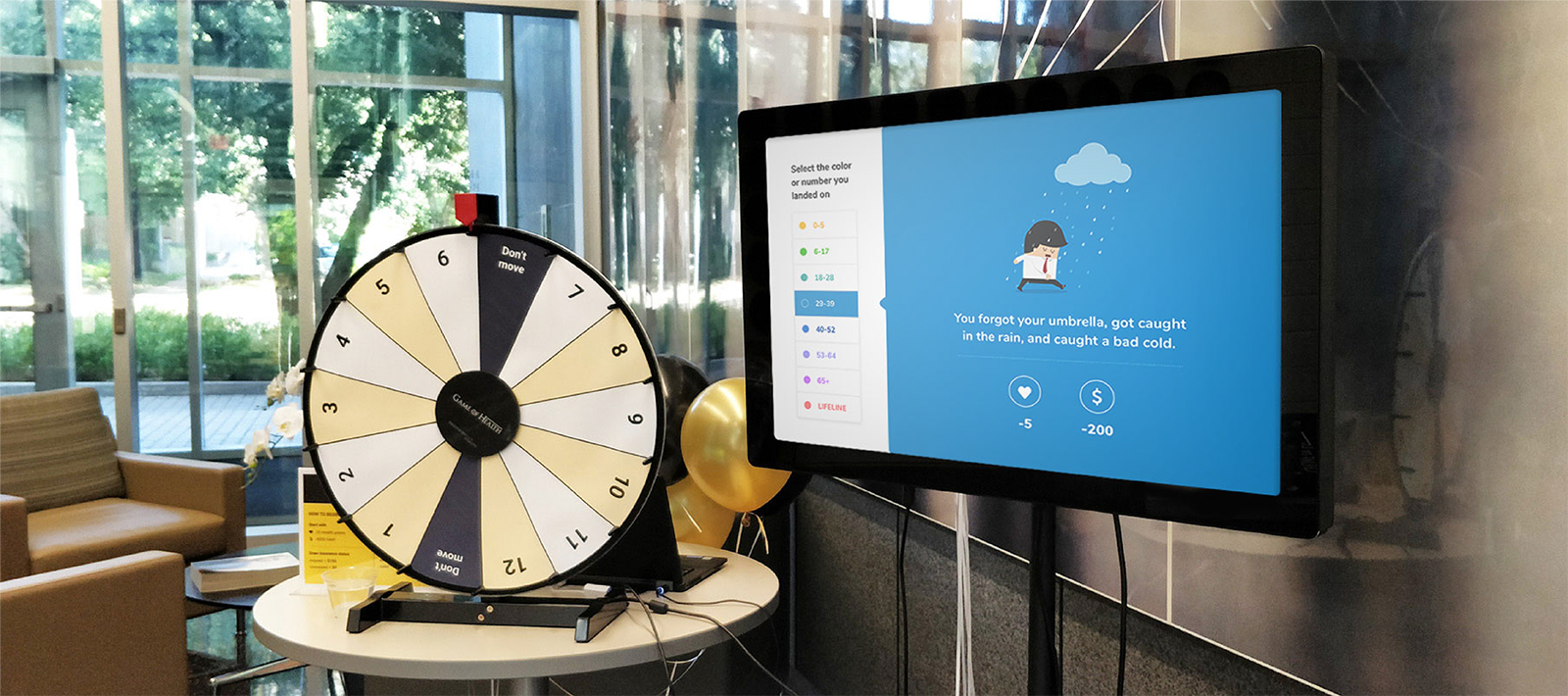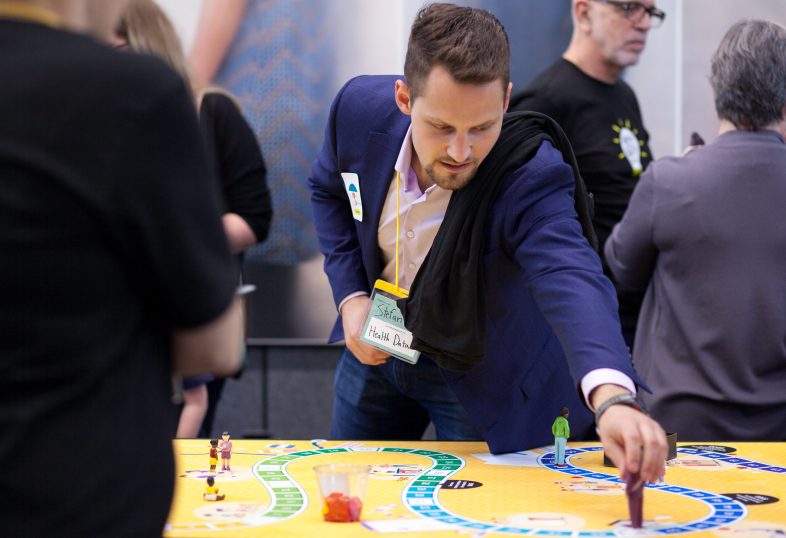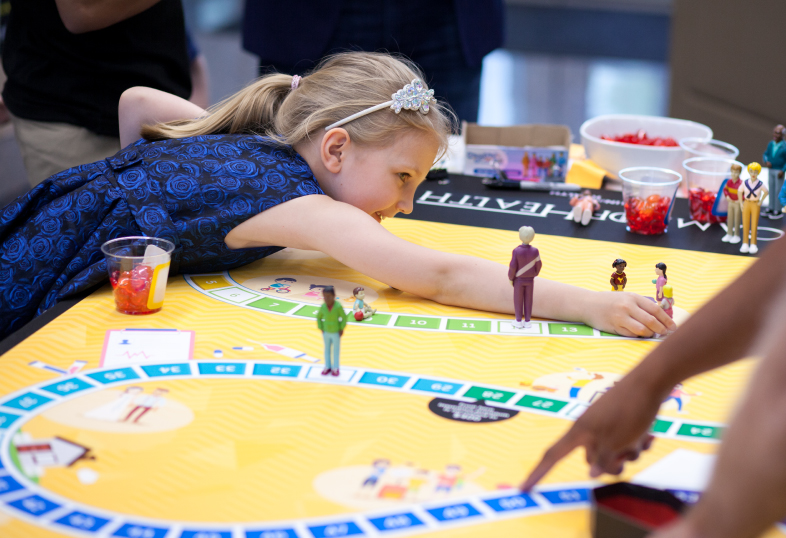 What I learned
The iterative process leads to better outcomes
Importance of iterations and gathering feedback in order to refine and improve the design further.
Physical + Digital = Engaging interactive experience
It was interesting to see how physical and digital components of design together create an engaging experience for a wider audience.